Scheme of wing pattern: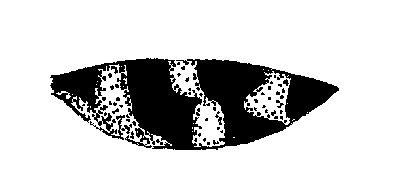 Description of adults: Examined: 8

, 2

. Forewing length:

2,8 - 3,5 mm;

3,2 - 3,6 mm. Head black-brown, vestiture of hair-like scales on the head rusty yellow; antennae dark brown, bronze golden shining, 5/6 (

), respectively, 4/7 (

) of forewing length; thorax golden; tegulae bluish to violet; forewings violet to reddish violet, with coppery golden and golden markings: a bronzy golden fascia across the whole wing width at 1/5, from the tegulae to this fascia two small bronzy golden lines, one along the inner margin, the other directly in the middle of the wing; a golden fascia across the whole wing width in the middle, slightly bent outwards and bronzy golden bordered, sometimes interrupted in the middle; at 3/4 a trapezoid golden spot inwardly oblique and reaching the middle of the wing, also bronzy golden bordered; from this spot following the costa to the apex a narrow bronzy golden band recurrent along the tergal margin and broadening towards the spot; fringe bronzy golden; hindwings bronzy golden with purplish tinge and bronzy golden fringe; legs and abdomen dark brown, bright golden shining.