---
N A T U R K U N D L I C H E S   I N F O R M A T I O N S S Y S T E M
---
Micropterix eatoniella Heath, 1986
(zoological nomenclature: valid name, available)

General information:
Micropterix eatoniella Heath, 1986: 28-29, fig. 16
Type locality: Algeria, Bone [=Annaba]
Type: Holotype : Algeria, Bone, 13.IV.1903, Eaton, 14015; genitalia preparation J. Heath no. 162; in coll. BMNH

Synonyms, misspellings, wrong determinations, etc.:
---
Habit:
Scheme of wing pattern: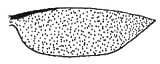 Description of adults: Examined: Original description by Heath (1986). "Forewing length:

3.1 mm;

3.4-3.6 mm. Wing expanse:

6.8 mm;

7.1-7.7 mm. Head pale golden, antenna golden fuscous. Thorax golden; tegulae golden. Forewing dark golden, edge of costa from base to one-third bronzy purple without markings; cilia golden. Hindwing bronzy golden; cilia bronzy golden. Abdomen golden."
Distribution:
Following Heath (1986), the species is only known from the type locality Annaba in Algeria.
Biology:
There arenīt any data available about the biology of M. eatoniella.
Stages in development:
The early stages are unknown.
Anatomy:

Genitalia. "Uncus long and slender, club-shaped; accessory clasper with 15 more or less hooked setae arranged in four groups on inner surface and a large ventral lobe. Anal lobe serrate-edged. Clasper acutely spatulate with two rows of moderately short, stout setae on inner surface of distal end and four long, stout, postbasal setae on inner surface." (Heath 1986)
Worth knowing:
Sources:
Heath, J. 1986. The Micropterigid fauna of north Africa (Lepidoptera, Zeugloptera). Entomologistīs Gazette 37:17-32, 126
Publication data:
history:
Kurz Michael: 2010.11.16
Kurz Michael: 2012.07.13
Kurz Michael: 2012.11.07
Kurz Michael: 2019.09.04

not reviewed
Advertisement: