---
N A T U R K U N D L I C H E S   I N F O R M A T I O N S S Y S T E M
---
Micropterix igaloensis unmarked golden form
(zoological nomenclature: nomen nudum, not available)

Habit:
: Croatia, Dalmatia, Makarska, Baska Voda, 1979.05.18, leg. Josef Klimesch, coll. Zoologische Sammlung des Bayrischen Staates, Munich (ZSM)
Picture from: © Zeller Christof
Detailed view
Scheme of wing pattern: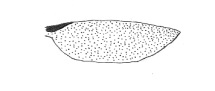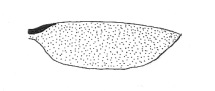 Desciption od adults: Examined: 6

, 5

. Forewing length:

3.0-3.3 mm,

3.2-4.0 mm. Head black; vestiture of hair-like scales on head light ochreaous-yellow; antennae brown, golden shining, basal quarter with purple tinge, 9/10 (

), respectively, 3/5 (

) of forewing length; thorax bronzy golden, posteriorly coppery to purple; tegulae purple; forewings bronzy golden without markings, only base of costa distinctly purplish; anterior part of wing and apex with light purplish tinge; fringe bronzy golden, basally purple; hindwings bronzy golden with purplish shimmer; fringe bronzy golden, basally purplish, lighter outwards; abdomen brown, bronzy golden shining.
Distribution:
The unmarked golden form od
M. igaloensis
is known to present only from two locations in Dalmatia in low altitudes below 250 m a.s.l. (Kurz & Kurz 2019).
Worth knowing:
Sources:
Kurz, M. A. & M. E. Kurz 2019. Naturkundliches Informationssystem. URL: https://www.nkis.info [online 2019.09.04]
Publication data:
history:
Kurz Michael: 2012.11.22
Kurz Michael: 2019.09.04
Kurz Michael: 2020.02.03

not reviewed
Advertisement: