---
N A T U R K U N D L I C H E S   I N F O R M A T I O N S S Y S T E M
---
Micropterix species (Durmitor) in litt.
(zoological nomenclature: nomen nudum, not available)

Habit:
: Montenegro, between Niksic and Krstac, 2011.06.07, leg. J. Neumayer, coll. Michael Kurz
Picture from: Kurz Michael
Detailed view
Scheme of wing pattern: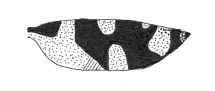 Description of adults: Examined: 1

. Forewing length:

3.8 mm. Head black; vestiture of hari-like scales on the head light ochreous yellow; antennae 3/5 (

) of forewing length, dark brown, bronzy golden shining; thorax bronzy golden, posteriorly purplish, tegulae purple; forewings purple with bronzy golden markings: inner margin bronzy golden from basis to 2/5, then reddish to the medial fascia; a moderately broad fascia at 1/4, inwardly oblique; a moderately broad fascia at 1/2, outwardly oblique and interrupted in anterior half; a bronzy golden costal spot at 3/5; a broad, triangle-shaped fascia at 3/4 nearly across the whole wing width, but not quite reaching outer margin; apex except for the outermost purple tip bronzy golden; fringe bronzy golden, purplish basally; hindwings grey with purplish tinge; fringe bronzy golden with coppery reflections; abdomen dark brown, bronzy golden shining.
Distribution:
The taxon is known from a single female only from the Durmitor mountain range in Montenegro from a height of appr. 900 m a.s.l. (Kurz & Kurz 2019).
Biology:
The animal has been found by J. Neumayer in a blossom of an unidentified species of Rosa sp.
Diagnosis:
The above described female is externally very similar to
Micropterix igaloensis
Amsel, 1951. It differs however by its bronzy golden markings, the presence of a bronzy golden inner margin and the almost complete absence of a bronzy golden outer margin. Furthermore, the fascia at 1/4 reaches the costa, whereas in
M. igaloensis
, the tip of this fascia is far from the costa. The taxonomic status of the animal is unclear however, due to the lack of further material.
Worth knowing:
Sources:
Kurz, M. A. & M. E. Kurz 2019. Naturkundliches Informationssystem. URL: https: wwww.nkis.info [online 2019.09.04].
Publication data:
history:
Kurz Michael: 2019.06.23
Kurz Michael: 2019.09.04
Kurz Michael: 2019.09.09
Kurz Michael: 2020.02.03

not reviewed
Advertisement: