Morphological characters as indicators for a hypothetical arrangement of species in the genus Micropterix Hübner, 1825
Michael Kurz, Marion Kurz & Hans Christof Zeller
Abstract:
During a 25 years study of the genus Micropterix Hübner, 1825, many similarities have been found regarding wing markings and details of male and female genitalia. In order to enhance present DNA-studies, a tentative arrangement of species is proposed based on these characters.
Introduction:
In several of his publications, already John Heath has tried to cluster species of Micropterix on the basis of similarities in the male genitalia. On this basis, the authors have investigated more than 60 species out of about 80 of the Palaearctic genus Micropterix by themselves since more than 25 years. In order to provide proper characters for identification of both sexes, wing markings and genitalia have been studied in detail. Many of these characters have been proven to be more or less similar in smaller or greater groups of species. Although several characters, especially wing markings may have evolved independently several times from a common ground plan, it is assumed, that others, especially details of the male genitalia indicate a closer relationship of species. Furthermore, it is assumed, that species with a wide distribution are phylogenetically older than endemites of a small region, especially if several endemites are clustered in a certain region.
Based on these assumptions, several characters have been selected and attributed as plesiomorphic or apomorphic. Although this is highly speculative, the presented thesis may prove useful for DNA-studies of phylogentic relationship of species within the genus, which have recently been initiated by one of us (Zeller).
Material and Methods:
Wings markings have been studied with a 20-fold magnification under a stereo microscope. Genitalia preparations have been performed as described recently (Zeller et al. 2007). In the following tables, the presence or absence of a character has been indicated by a "+" or "-". Where material could not be studied by ourselves, we have tried to decide about the presence or absence of characters on the basis of recently published figures.
Characters have been clustered in three hierarchical groups: The first group of characters is present in many species, whereas the second group is found only in a smaller number of species. The third group of characters finally has been used for grouping small species complexes, obviously consisting of closely related species. Species have been grouped in the tables in order to reach the highest possible accordance with respect to the selected characters.
Table of characters used in the study (see also figs. 2 and 3):
1.1 Female: Tergit 9 reduced to area of setae or complety atrophied
1.2 Male: Tegumen and vinculum more or less fused
1.3 Male: Setae on accessory claspers differentiated into 3 groups: upper group, lower row, inner row; upper group or inner row often secondarily reduced
2.1 Male: additional lobes between uncus and accessory clasper are reduced (same as mansuetella-complex)
2.2 Male: additional lobes between uncus and accessory clasper are specialized
2.3 Male: accessory claspers reduced as compared to the lobes below the uncus
2.4 Male: accessory claspers: Inner row of setae with Y-, T- or sickel shaped setae
2.5 Male: accessory claspers: Tip of accessory claspers with Y-, T- or sickel shaped setae
2.6 Male: Valvae elongated (autapomorphism)
3.1 Male: Accessory claspers strongly reduced, almost completely missing, strongly modified
3.2 Male: Membranous lobe and/or group of setae below accessory clasper
3.3 Male: Tegumen stout, posterior margin of tegumen fused with accessory claspers
3.4 Male: Uncus extremly short
3.5 Male: Uncus modified: strongly elongated
3.6 Male: Valvae strongly modified (autapomorphism)
3.7 Male: Accessory claspers more or less trapezoid, setae directing posterior
3.8 Male: Lower row of setae of accessory claspers: cephal 4 separate setae (autapomorphism)
3.9 Male: Lower row of setae of accessory claspers: cephal 1-2 setae clearly separated
3.10 Male: Accessory claspers very well developed
3.11 Male: Setae of accessory claspers strongly reduced
3.12 Male: anterior part of tegumen folded, accessory claspers slightly reduced
3.13 Female: Receptaculum seminis extremely long (autapomorphism)
Results:
Wing markings (Fig 1):
In the genus Micropterix, wing markings differ not only from species to species, but may be highly variable also within one and the same species. Several species are known, which have marked as well as unmarked forms (e.g. Micropterix aruncella (Scopoli, 1763) or Micropterix paykullella (Fabricius, 1794)). Nevertheless, a common ground plan seems to be evident, consisting of a darker (mostly purple) ground colour with three lighter (golden or silvery) transverse fasciae. Additional and therefore probably derived characters in the wing markings are the presence of golden colouration along the inner and outer margins and a small costal spot at about 3/5 of the forewing length, although these characters are already found in some species, which are otherwise assumed to be close to the basis.


Fig. 1: Ground plan of wing markings in the genus Micropterix Hübner, 1825
Female genitalia (Fig 2):
Female genitalia provide only very poor characters, even for identification purposes (Zeller et al. 2007). With one known exception (Micropterix mansuetella Zeller, 1844), tergite IX in the female abdomen is completely atrophied. It is therefore assumed, that M. mansuetella is one of the most primitive members of the genus. The only other character of the female genitalia that seems to be useful, is the extremely elongated receptaculum seminis, which has been found in two members of an obviously well defined group with respect to the male genitalia. This is Micropterix klimeschi Heath, 1973 and its relatives.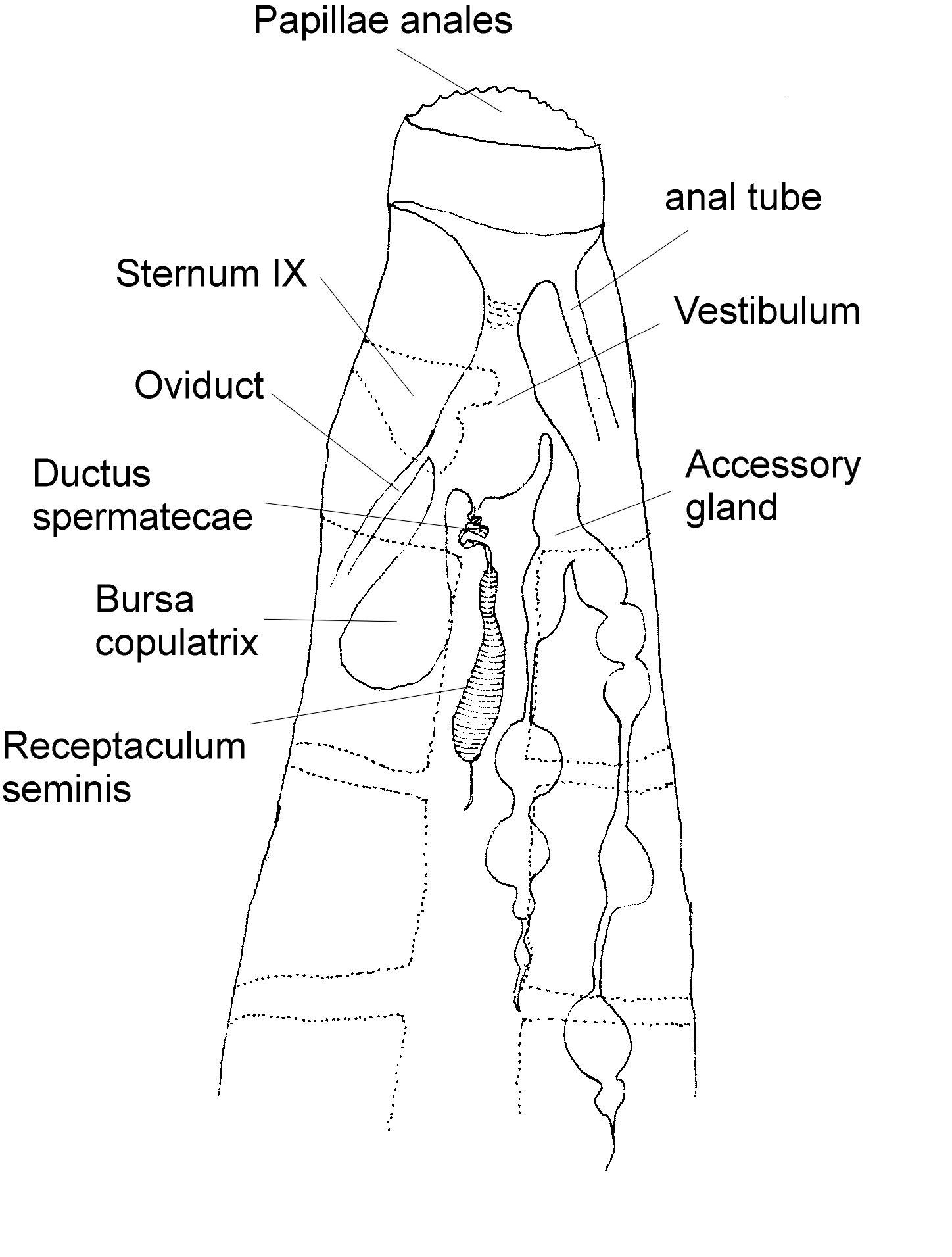 Fig. 2: Scheme of female genitalia
Male genitalia (Fig. 3):
The male genitalia of Micropterix species provide several characters, which are probably apomorphies of certain species groups. All these characters are absent in M. mansuetella and supposedly related species. Among them are the presence and secondary loss of an additional lobe between accessory claspers and uncus, the presence of an additional lobe between accessory claspers and valves, the presence of up to three groups of modified, thickened, Y- or T-shaped setae on the accessory claspers and the form of the valvae. Minor characters are the direction of spinoid seate on the accessory claspers (distally or ventrally directed) and the grouping of these setae (1-2 setae proximally offset).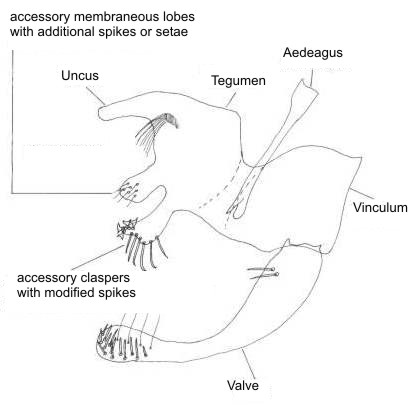 Fig. 3: Scheme of male genitalia
Geographical distribution:
M. mansuetella is distributed throughout a large portion of Europe, in accordance with our assumption, that more primitive species(-groups) should have a wider distribution. Based on the same assumption, the following species should be closer to the basis within their groups than others: Micropterix aureatella (Scopoli, 1763) and Micropteric aruncella (Scopoli, 1763) in group 2 and the Micropterix klimeschi (Heath, 1973)-complex or Micropterix tunbergella (Fabricius, 1787) in group 3.
Arrangement of species:
In a first step, three big groups have been recognized (tab. groups). Nearly all species could have been attributed to one of these three groups without force, only in some cases published drawings of the male genitalia are to inaccurate to enable proper placement. The proposed most primitive group lacks derived features like groups of modified setae on the accessory claspers or additional lobes between uncus and accessory claspers or between accessory claspers and valves, whereas the largest and probably most derived one shows all these features or a secondary reduction or even loss of them.
In a second step, a refined arrangement has been tried, using minor characters in order to break down the larger groups into smaller units (tab. complexes). The sequence of these species-complexes within a group is highly speculative, although the complexes itself mostly seem to form natural units.
Dataset: Table of characters
Literature:
C. Zeller-Lukashort, M.E. Kurz, D.C. Lees & M.A. Kurz 2007. A review of Micropterix Hübner, 1825 from northern and central Europe (Micropterigidae), Nota lepidopterologica 30 (2): 235 - 298.
Michael Kurz: Josef-Waach-Strasse, 13/1, A-5020 Salzburg, Austria; email: michael.kurz@gmx.at.
Marion Kurz: Sportplatzstraße 23, A-5303 Thalgau, Austria; email: marion.kurz@gmx.at.
Christof Zeller: Forsthubfeld 14, A-5303 Thalgau, Austria; email: christof.zeller@gmx.net